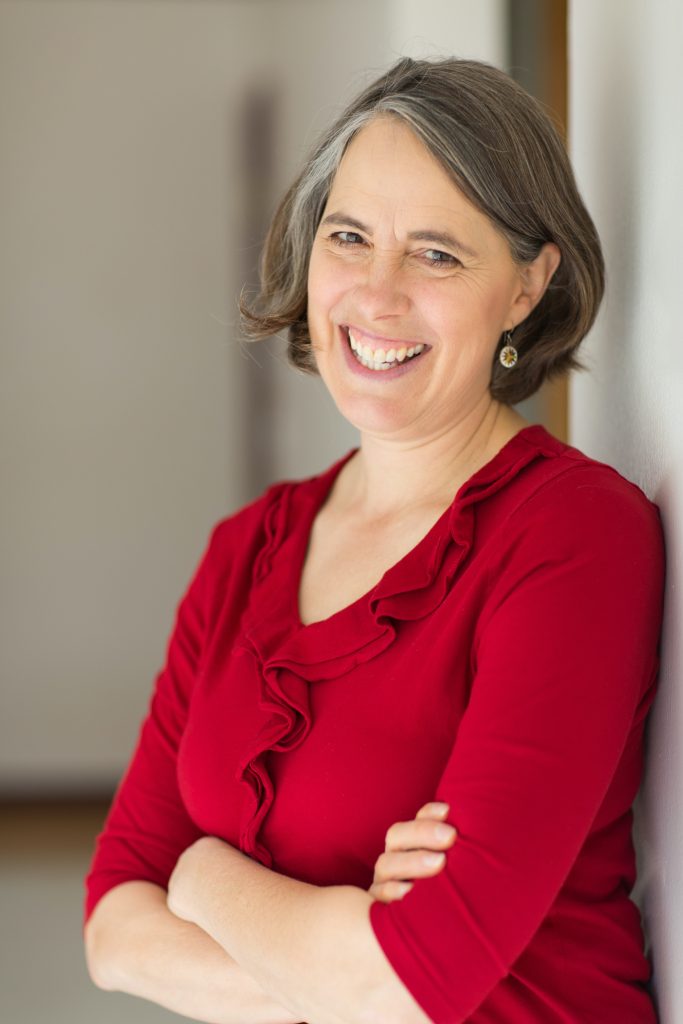 Their Voices Count
By Annette Bay Pimentel
When my first baby was born, my husband and I strapped him into his carseat and launched ourselves into the snarl of rush hour. While we sat at a standstill, the carpool lane—"Three occupants per vehicle"—stood blissfully free of traffic. We looked at each other, genuinely puzzled. "Are we three? Does the baby count?"
Yes! Of course the baby counts.
And the toddlers and the preschoolers and the elementary school kids. They all count, not only for carpool lanes, but in all of our shared public life.
Kids matter. Their needs and concerns should be just as central to public policy as are the needs and concerns of grown-ups.
Yet frequently our systems and societies look over the heads of kids, ignoring them, failing to even consider how public policy affects them. Parents, teachers, and librarians often end up being the ones to remind everyone else about the needs of kids.
And occasionally a kid will come along to do the job.
I write about moments of change in American culture. In 2017 I decided that I wanted to write about the Americans with Disabilities Act (ADA). Despite all of its failings and the ways it has been whittled down since its passage in 1990, it has managed to fundamentally transform American perspectives on disability.
To find a focus for my book, All the Way to the Top (Sourcebooks 2020), I dove into the legislative history of the ADA. I quickly discovered the Capitol Crawl, a made-for-TV political action that took place in March 1990. Disability rights activists climbed out of their wheelchairs and up the steps of the US Capitol, vividly demonstrating what inaccessibility is. Their collective action, along with other protests, pressured Congress to pass the ADA.
And among the protesters that TV cameras filmed at the Capitol Crawl was an eight-year-old girl, Jennifer Keelan.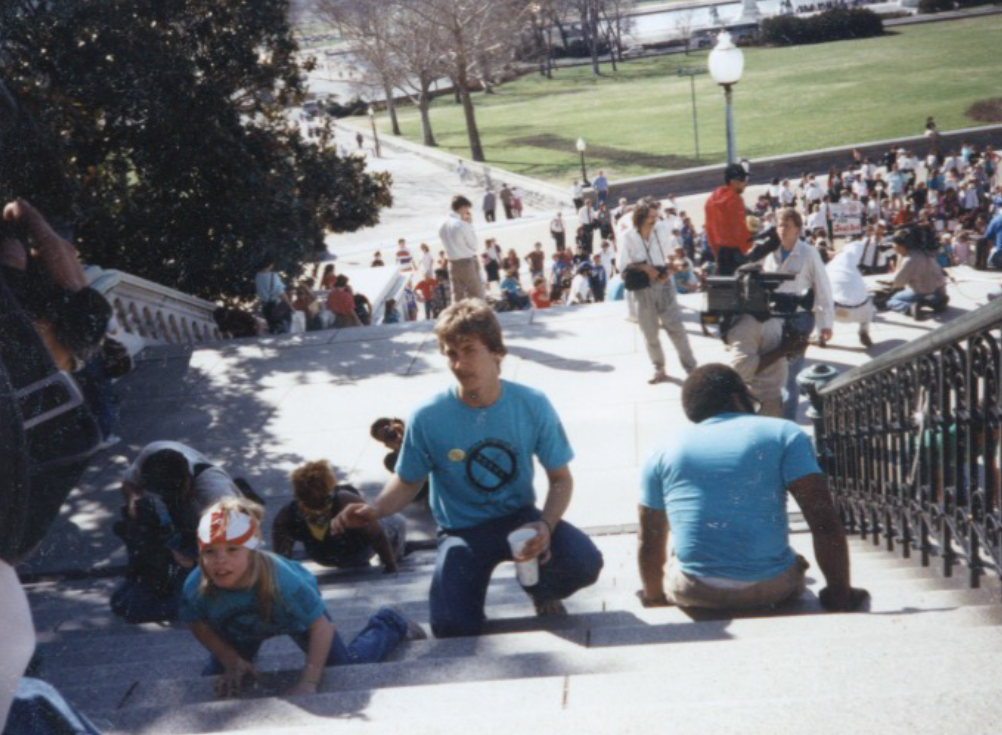 I found grown-up Jennifer Keelan-Chaffins and asked if she would be interested in teaming up with me to tell kids the story of her childhood activism. Jennifer was busy with her own life—finishing a degree at Arizona State University, sorting out issues related to disability-friendly housing, and, as always, dealing with her physical challenges—but she agreed to take on one more project.
Why?
Because she felt strongly that kids' voices count.
Reflecting on her childhood filled with protests and activism, she told me: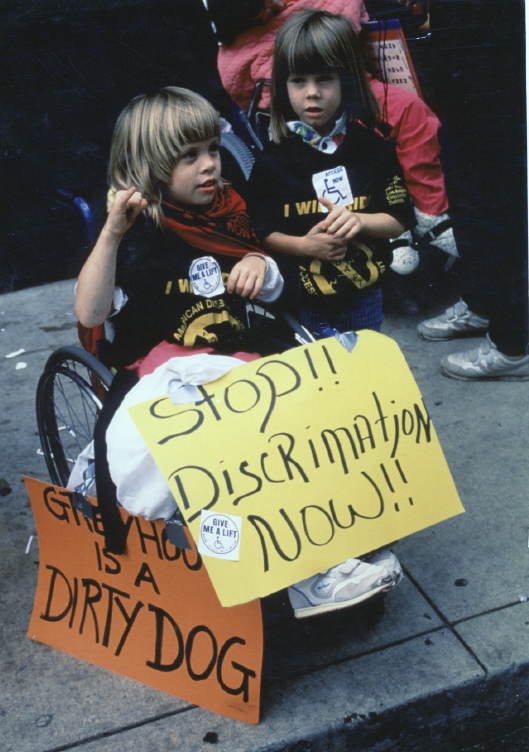 The main reason why I decided to become involved was because even at a very young age I knew that…there was nobody representing my generation so I thought of myself as their representative. I was their voice.
Jennifer knew, even as a child, that advocating for the ADA was a huge, societal-shifting opportunity. And she felt keenly that kids' voices should be part of the protest.
I was thinking of other children with disabilities and I was also thinking of future generations….I often felt like this was something bigger than myself. So I realized that I had a responsibility, not only for myself but also for other children with disabilities.
When Jennifer and I do school visits together, we talk about raising up our voices. We discuss what it's like to participate in protests, and Jennifer leads everyone in a protest chant. That's good practice for kids who might someday attend a protest, but not every kid we talk to will attend protests.
So we also talk about small, everyday ways to create positive change. We tell about microaggressions Jennifer faced in school and give kids the chance to use their voices to share ideas about how they could change a hostile environment.
My instinct is to reassure the kids we talk to. I feel like telling them, "Some things are issues that only grown-ups can deal with. There's only so much that kids can do." But I'm learning to bite my tongue as Jennifer passionately teaches the kids—and me—about the true power kids hold.
She tells kids that they can change the world, that their voices matter.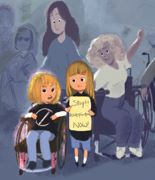 As our book points out, raising your voice against a wrong doesn't "always change people's minds" and even successful protests "don't change things overnight." It's a slow process to transform physical spaces to be accessible. "Slowest of all, minds have to change."
But kids' voices can prompt important change.
Do children's opinions matter? Do kids count?
Absolutely!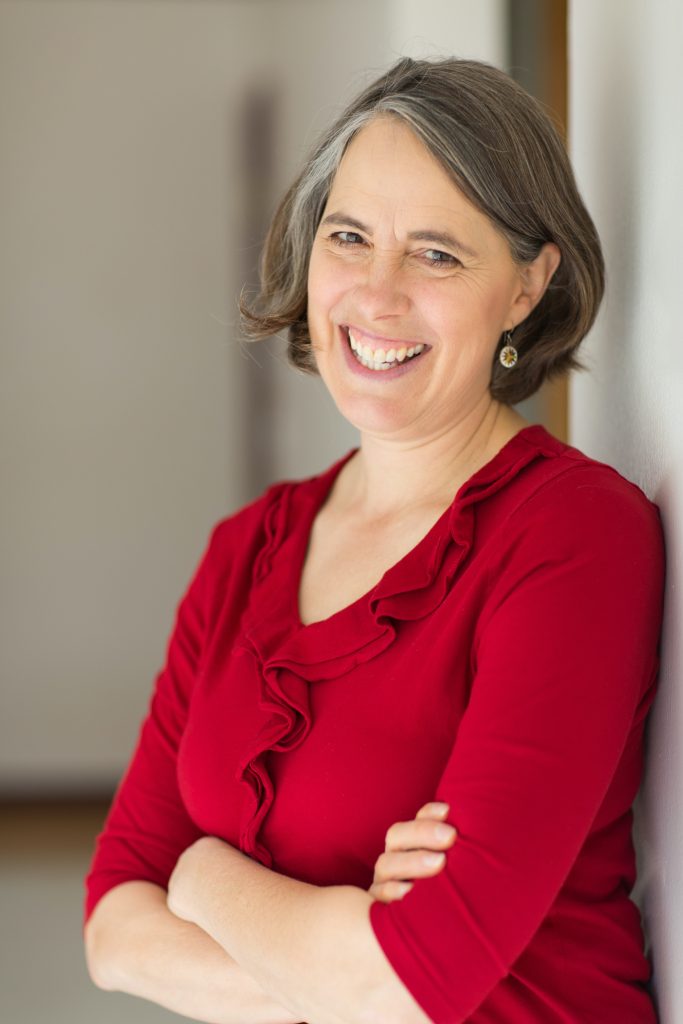 Listen to the Meet-the-Author Recording for All the Way to the Top.
Visit Annette Bay Pimentel's website.
Visit Jennifer Keelan-Chaffins' website.
Text and images are courtesy of Annette Bay Pimentel and may not be used without expressed written consent.