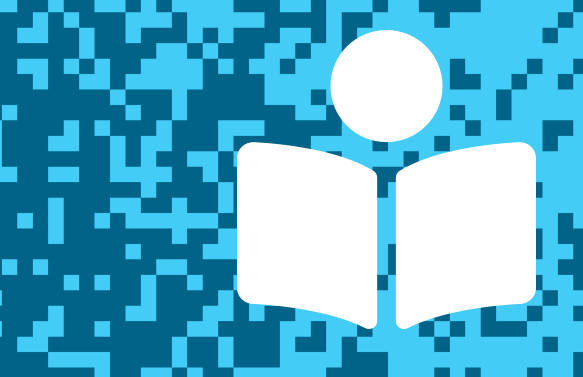 In this post, we feature author Gary D. Schmidt, whose acclaimed titles include the Newbery Honor Book The Wednesday Wars. You can hear him speak about his new novel, Just Like That, and try his fun "invitation to imagine" activity. You'll also find other resources to explore. Thanks for joining us, and let us know what you think in the comments below!
---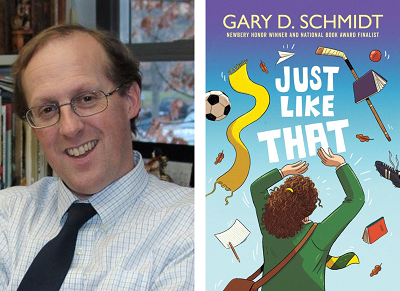 Written by Gary D. Schmidt
Published by Clarion Books, an imprint of Houghton Mifflin Harcourt
Release date: January 5, 2021
Following the death of her closest friend in summer 1968, Meryl Lee Kowalski goes off to St. Elene's Preparatory Academy for Girls, where she struggles to navigate the venerable boarding school's traditions. In a parallel story, Matt Coffin has wound up on the Maine coast near St. Elene's with a pillowcase full of money lifted from the leader of a vengeful criminal gang. Both young people gradually dispel their loneliness, finding their way toward hope, and also toward each other. Gary D. Schmidt brings authenticity and emotion to multiple plot strands, weaving in themes of grief, loss, redemption, achievement, and love.
From Just Like That, by Gary D. Schmidt

The pallbearers stood still. They waited a long time.

Even through the Blank, Meryl Lee heard the howls.

She thought she would hear them the rest of her life.

Read a longer excerpt from Just Like That, by Gary D. Schmidt
---
Listen to Gary D. Schmidt talking with TeachingBooks about creating Just Like That. You can click the player below or experience the recording on TeachingBooks, where you can read along as you listen, and also translate the text to another language.
---
Invitation to Imagine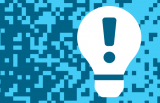 TeachingBooks asks each author or illustrator on our Virtual Book Tour to share a writing prompt, a drawing exercise, or just an interesting question to spark curiosity and creativity. Enjoy the following activity contributed by Gary D. Schmidt.
Imagination Activity with Gary D. Schmidt
One way to begin a story is to imagine a scenario in which something very normal and expected is suddenly shoved up against something that is very unexpected. It's the link between the expected and the unexpected that can lead to a story. So, choose one of these and write the next couple of pages, mixing together the normal and the weird.
1. When Kendrick came down to grab a Pop-Tart before school, he looked outside and had to sit down. "Why is the sky bright green?" he said to his sister. She took another spoonful of instant oatmeal. "It's always that color," she said. "What's your problem?"
2. All the students in Mrs. Brown's homeroom class looked up as she shut the door and the rumbling started. "You'll find oxygen masks underneath your seats," she said. "I'd advise you to put them on now."
3. He had been her Romeo for four months and she had never seen him in the daylight. Now, as the sun rose slowly over the horizon, they held hands and he began to shiver.
---
Finish This Sentence . . . with Gary D. Schmidt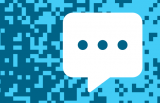 As part of our Virtual Book Tour, TeachingBooks asks authors and illustrators to complete short sentence prompts. Enjoy Gary D. Schmidt's response.
"My favorite books as a child were . . . ."
My favorite books as a child were the Freddy the Pig books—hands down.
"A surprising thing that helps me work is . . . ."
A surprising thing that helps me work is dogs. Whether they are curled up by the window, or huddled beneath the desk, or watching me from a nearby chair, dogs always help me work. They don't care how good the work is, or whether the writing will make its way in the world, or whether it will ever get published. All they care about is watching you for the least movement toward the fields. They help me know when to start, and when to stop.
"You may not know that I can . . ."
You may not know that I can split enough wood each winter and spring to keep the house warm for the entire next winter. I know—this isn't exactly a superpower. But to sit beside a woodstove and be warmed by the work you've done almost a year ago is a pleasure, and there's nothing like the heat released from wood to remind you that living according to the seasons is always a good thing.
"A favorite question from a young reader was . . ."
A favorite question from a young reader was asked of me while I was in Brussels: "How would your writing be different if you lived in a country that valued grace and mercy more than power and money?"
---
Thank you!
To wrap up this Virtual Book Tour, we thank Gary D. Schmidt for signing a book for all of us.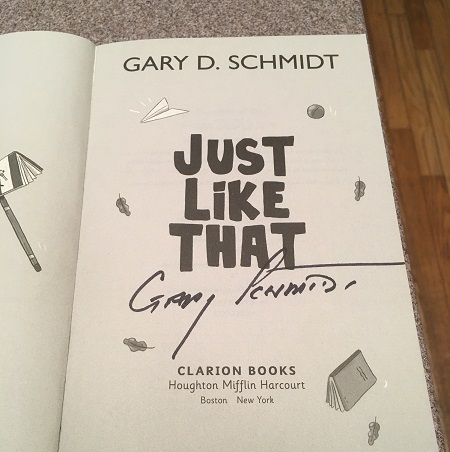 ---
More Connections to Gary D. Schmidt and Just Like That
---
Explore all of the titles featured in the TeachingBooks Virtual Book Tour: one link with author interviews, lesson plans, activities, and more!
All text and images are courtesy of Gary D. Schmidt and Houghton Mifflin Harcourt and may not be used without expressed written consent.