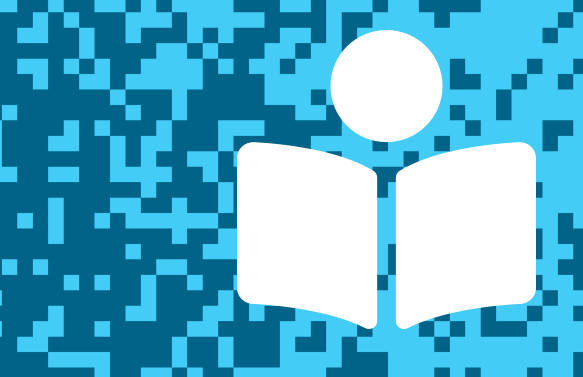 In this post, we feature author Christiane M. Andrews. You can hear her speak about her debut novel, Spindlefish and Stars, and try her fun "invitation to imagine" activity. You'll also find other resources to explore. Thanks for joining us, and let us know what you think in the comments below!
---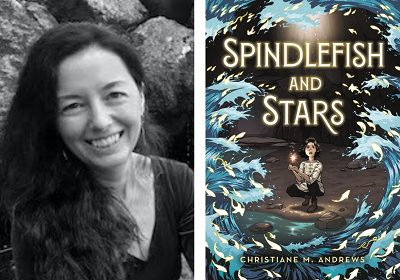 Written by Christiane M. Andrews
Published by Little, Brown Books for Young Readers
Release date: September 22, 2020
Clothilde has lived her whole life in the shadows with her father, a thief. But when he fails to meet her, sending her instead a mysterious ticket, Clo finds herself on a journey that leaves her on a sunless island. Quickly locked away, she spends her days in unnerving chores with the island's extraordinary fish, while an old woman sits nearby weaving an endless gray tapestry. To reunite with her father, Clo must unravel the mysteries of the island and the exquisite, terrible secrets hidden in the vast tapestry's threads. Inspired by Greek mythology, this spellbinding debut fantasy invites readers to seek connections, forge their own paths, and explore the power of storytelling in our interwoven histories.
From Spindlefish and Stars:

"Once, on the far end of the village in the last of the crumbling homes, lived a girl."

Read a longer excerpt from Spindlefish and Stars, written by Christiane M. Andrews.
---
Listen to Christiane M. Andrews talking with TeachingBooks about creating Spindlefish and Stars. You can click the player below or experience the recording on TeachingBooks, where you can read along as you listen, and also translate the text to another language.
---
Invitation to Imagine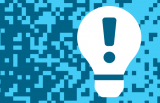 TeachingBooks asks each author or illustrator on our Virtual Book Tour to share a writing prompt, a drawing exercise, or just an interesting question to spark curiosity and creativity. Enjoy the following activity contributed by Christiane M. Andrews.
Imagination Activity with Christiane M. Andrews
Spindlefish and Stars takes some of its inspiration from paintings. One work in particular that influenced the story is the painting Landscape with the Fall of Icarus by the artist Pieter Brueghel. Writing that is inspired by visual artwork is called ekphrastic. There's a long tradition (going back thousands of years!) of poets and novelists looking to art to guide or shape the ideas in their works.
For this activity, find a piece of art that interests you. It could be famous painting or sculpture from a museum's online gallery, or it could be just a sketch or photograph made by a sibling or friend. Spend some time looking at the image: do you see anything in it that inspires a character? A setting? Even a whole plot? Does the image present a question that needs to be answered or an idea that could be explored? Use what you see as a jumping-off place for your own work. Write a short story or poem that springs from what you see in the artwork you've chosen.
---
Finish This Sentence . . . with Christiane M. Andrews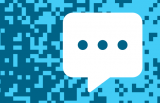 As part of our Virtual Book Tour, TeachingBooks asks authors and illustrators to complete short sentence prompts. Enjoy Christiane M. Andrews' response.
"A surprising thing that helps me write is. . ."
A surprising thing that helps me write is taking a walk! I frequently write in my head as I'm walking, and often, it's one of the best ways for me to work out problems. When I find myself stuck or unsure how to move forward in a text, just going for a walk in the woods or down the road (I live at the very end of a long dirt road) can be enough to inspire a solution.
"Where I write is . . ."
Where I write is usually in a comfy chair with my dogs nearby keeping me company. (Sometimes I'll work at a desk, but I prefer being able to curl up with my notebooks and laptop.) Gretel, a rescue greyhound, is generally happy to nap while I'm working, but Rigel, a long-haired whippet mix, regularly interrupts for pats and scratches. They both listen to me read drafts aloud!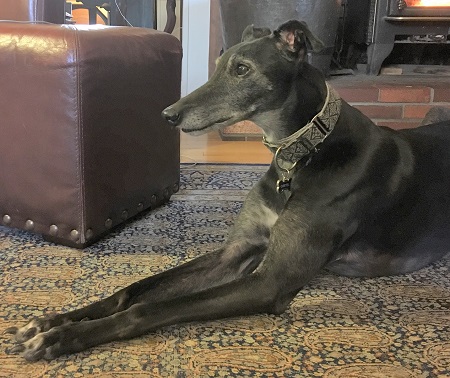 ---
Thank you!
To wrap up this Virtual Book Tour, we thank Christiane M. Andrews for signing a book for all of us.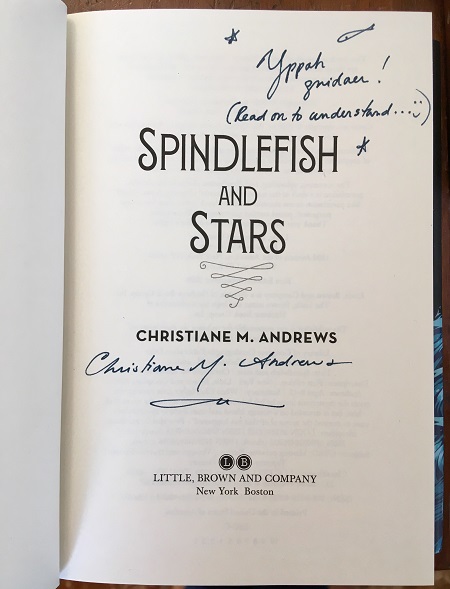 ---
More Connections to Christiane M. Andrews and Spindlefish and Stars
---
Explore all of the titles featured in the TeachingBooks Virtual Book Tour: one link with author interviews, lesson plans, activities, and more!
All text and images are courtesy of Christiane M. Andrews and Little, Brown and may not be used without expressed written consent.