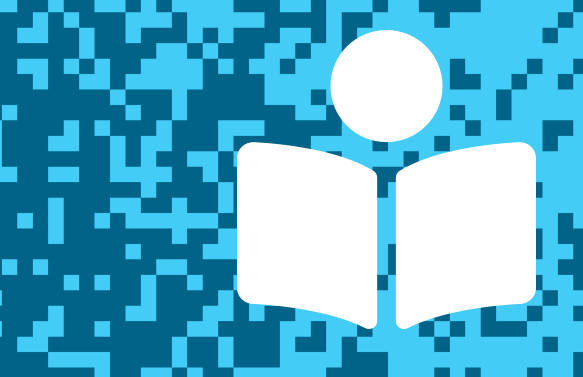 In this post, we feature Victoria Bond, whose award-winning titles include Zora and Me, co-written by T.R. Simon, who wrote the second title in the trilogy, The Cursed Ground. You can hear Victoria Bond speak about the inspiration for her new book, Zora and Me: The Summoner, the conclusion in the Zora and Me trilogy, and try her fun "invitation to imagine" activity. You'll also find other resources to explore. Thanks for joining us, and let us know what you think in the comments below!
---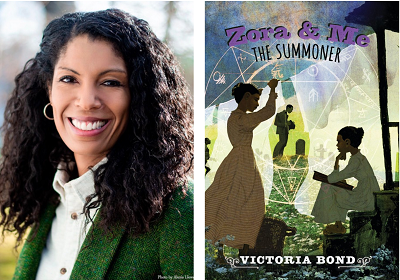 Written by Victoria Bond
Published by Candlewick Press
Release date: October 13, 2020
For Carrie and her best friend, Zora, Eatonville—America's first incorporated Black township—has been an idyllic place to grow up. But when a lynch mob crosses the town's border to pursue a fugitive and a grave robbery resuscitates the ugly sins of the past, the safe ground beneath them shifts. Not only has Zora's own father decided to run against the town's trusted mayor, but there are other unsettling things afoot, including a heartbreaking family loss, a friend's sudden illness, and the suggestion of voodoo and zombie-ism, which a curious and grieving Zora begins to entertain. Victoria Bond brings the story begun in the award-winning Zora and Me and its sequel, Zora and Me: The Cursed Ground, to a satisfying conclusion.
From Zora and Me: The Summoner:

Everyone in Eatonville suffered terribly that year, including my best friend, Zora.

Read a longer excerpt from Zora and Me: The Summoner, written by Victoria Bond.
---
Listen to Victoria Bond talking with TeachingBooks about creating Zora and Me: The Summoner. You can click the player below or experience the recording on TeachingBooks, where you can read along as you listen, and also translate the text to another language.
---
Invitation to Imagine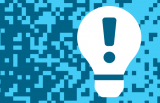 TeachingBooks asks each author or illustrator on our Virtual Book Tour to share a writing prompt, a drawing exercise, or just an interesting question to spark curiosity and creativity. Enjoy the following activity contributed by Victoria Bond.
Imagination Activity with Victoria Bond
We all have stories to share, but often we need to be prompted to find the entry point to those events that have most shaped us and, as a result, our stories. With my own students, who are mostly college freshman, I use what I call "story starters," which are essentially phrases designed to get student writers on the path toward their stories.
The "story starter" that I use most frequently as a writing instructor comes from the opening of Zora and Me, the first book in the Zora and Me trilogy. Typically, I ask students to write out the entire phrase and then continue to write two to three sentences beyond it. Here is that first phrase:
"It's funny how you can be in a story without realizing until the end that you were in one. I entered my story when…"
---
Finish This Sentence . . . with Victoria Bond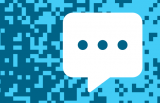 As part of our Virtual Book Tour, TeachingBooks asks authors and illustrators to complete short sentence prompts. Enjoy Victoria Bond's response.
"A surprising thing that helps me work is . . ."
A surprising thing that helps me work are old timey photographs from the period I'm writing about, which in the case of the Zora and Me trilogy is the early-twentieth century. Whenever I feel stuck thinking about a character's expression, or how they might have dressed, or a certain look in their eyes, I pick up one of my books on the history of African American photography, page through it, and voila! Just like that, I have a hundred ideas about how to bring a character to life when moments earlier I possessed zero!
"An eyebrow-raising topic I researched for my latest book is . . ."
An eyebrow-raising topic I researched for The Summoner is the history of grave robberies. What I learned is that laws in certain parts of the country barred medical research on white cadavers. As a result, African American cemeteries were plagued by grave robberies in the late-nineteenth and early-twentieth centuries. It's this crazy thing that scholars now call "post-mortem racism" because so much medical research was done on Black bodies without any consent.
---
Thank you!
To wrap up this Virtual Book Tour, we thank Victoria Bond for signing a book for all of us!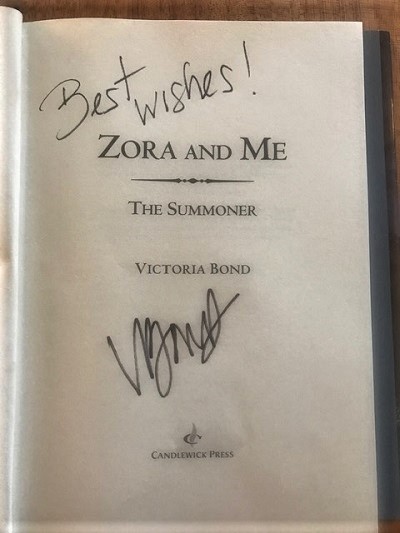 ---
More Connections to Victoria Bond and Zora and Me: The Summoner
---
Explore all of the titles featured in the TeachingBooks Virtual Book Tour: one link with author interviews, lesson plans, activities, and more!
All text and images are courtesy of Victoria Bond and Candlewick Press and may not be used without expressed written consent.