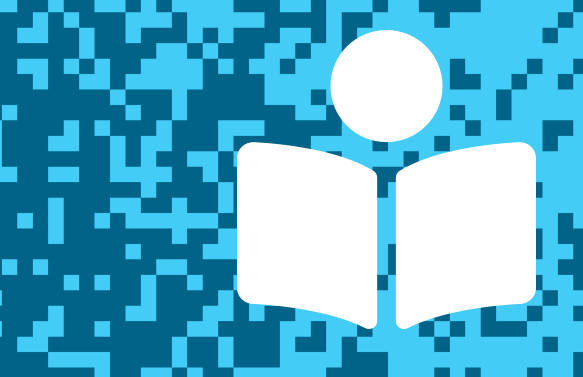 In this post, we feature celebrated, versatile author Joseph Bruchac, whose many acclaimed titles include the middle-grade novel Talking Leaves. You can hear him speak about the inspiration for his new biography One Real American: The Life of Ely S. Parker, Seneca Sachem and Civil War General and try his fun "invitation to imagine" activity. You'll also find other resources to explore. Thanks for joining us, and let us know what you think in the comments below!
---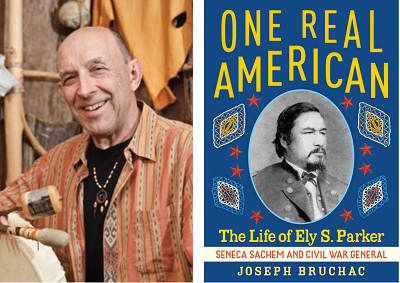 Written by Joseph Bruchac
Published by Abrams Kids
Release date: October 27, 2020
A member of the Seneca (Iroquois) Nation, Ely S. Parker (1828–1895) was an attorney, engineer, and tribal diplomat. Raised on a reservation but schooled at a Catholic institution, he learned English at a young age and became an interpreter for his people. A lieutenant colonel during the American Civil War, he was the primary draftsman of the terms of the Confederate surrender at Appomattox. Later, he became President Grant's Commissioner of Indian Affairs. Award-winning children's book author and Native American scholar Joseph Bruchac provides an expertly researched, intimate look at a fascinating and little-known figure in U.S. history.
From Chapter One:

So it was that the official terms of surrender marking the end of the Civil War were written in the hand of Ely S. Parker. Ely S. Parker, who was not only the highest ranking Native American in the Union Army but also bore the title of Donehogawa (the Guardian of the Western door) as a Seneca Grand Sachem of the Haudenosaunee—the League of the Iroquois.

Read a longer excerpt from One Real American: The Life of Ely S. Parker, Seneca Sachem and Civil War General, by Joseph Bruchac.
---
Listen to Joseph Bruchac talking with TeachingBooks about creating One Real American: The Life of Ely S. Parker, Seneca Sachem and Civil War General. You can click the player below or experience the recording on TeachingBooks, where you can read along as you listen, and also translate the text to another language.
---
Invitation to Imagine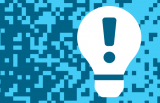 TeachingBooks asks each author or illustrator on our Virtual Book Tour to share a writing prompt, a drawing exercise, or just an interesting question to spark curiosity and creativity. Enjoy the following activity contributed by Joseph Bruchac.
Imagination Activity with Joseph Bruchac
Have you ever had a really bad day at school? I have had plenty of those. But, instead of feeling bad about those days, I often shape them into a story. Sometimes it turns out to be a funny story and other times, I find a useful lesson in what happened. Telling your own story your own way lets you take control. You can do the same with things that happen to you in your life. Choose one of those bad days, and then write about it.
---
Finish This Sentence . . . with Joseph Bruchac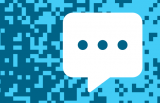 As part of our Virtual Book Tour, TeachingBooks asks authors and illustrators to complete short sentence prompts. Enjoy Joseph Bruchac's response.
"You may not know that I can…"
You may not know that I can break concrete blocks with my fist. I've studied martial arts for over 40 years. I am a fifth-degree black belt in Pentjak silat (Indonesian martial art) and also have a black belt in Brazilian jiu jitsu. My two sons, Jim and Jesse (who also hold multiple black belts), and I train together at our own dojo. It is part of our Ndakinna Education Center, where we teach all sorts of things ranging from wilderness skills and the Abenaki language to fitness and martial arts.
"Where I work is . . ."
Where I work is in my study in our cabin in the town of Porter Corners in the foothills of the Adirondack mountains. We are on a 20-acre conservation easement surrounded by forests with lots of wildlife. In fact, my wife, Nicola, and I are licensed wildlife rehabilitators. We often take care of injured or orphaned animals, nurse them back to health, and release them. They include turkeys, squirrels, porcupines, possums, rabbits, and others. We also continue to provide them with support at feeding stations all around our cabin. Here is a picture of Larry, the red-footed Amazonian tortoise, and Kiki, our miniature poodle. You can also see a picture of our garden.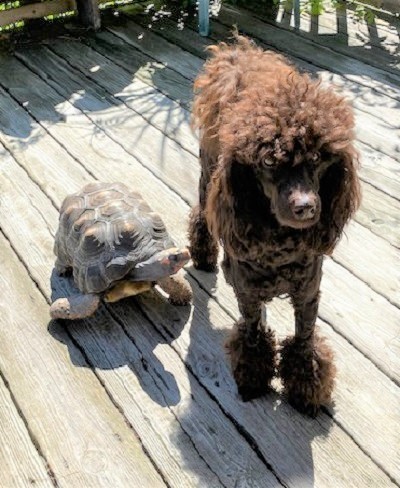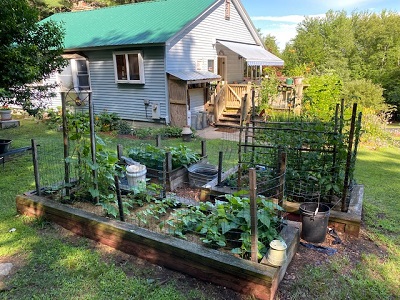 ---
Thank you!
To wrap up this Virtual Book Tour, we thank Joseph Bruchac for signing a book for all of us!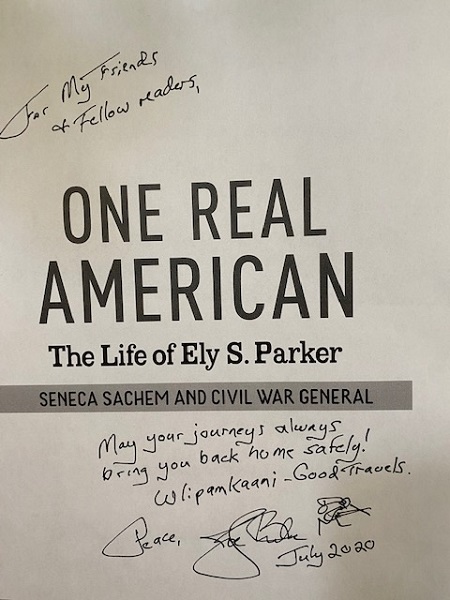 ---
More Connections to Joseph Bruchac and One Real American: The Life of Ely S. Parker, Seneca Sachem and Civil War General
---
Explore all of the titles featured in the TeachingBooks Virtual Book Tour: one link with author interviews, lesson plans, activities, and more!
Author photo by Eric Jenks. All other text and images are courtesy of Joseph Bruchac and Abrams Books and may not be used without expressed written consent.