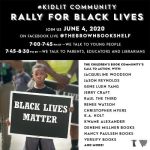 In response to racial injustice, and inspired by the Black Lives Matter Movement, TeachingBooks supports conversations on racism and anti-racism, discrimination, inequality, privilege, and social justice. We acknowledge the generational resilience and contributions of African Americans in our society. As part of our ongoing commitment to offering learning opportunities, we are sharing this list of resources and tools for educators, students, parents and community to discuss and explore these topics.
Conversations, Podcasts, Articles
Resources to encourage reflection, listening, and learning
Relevant Booklists
Booklists with instructional connections from TeachingBooks
Organization Websites
Organizations committed to promoting diverse and underrepresented voices through literature and educational connections
Additionally, TeachingBooks has put together a set of specific resources about books and authors to encourage reflection and engagement around these pertinent topics of today. This page is designed as a "cut & paste" to make it easy to forward the resources to students, families, and colleagues.