Each month we feature free and fun book contests and giveaways. We hope you will enjoy the following opportunities as well as the author and book resources available via TeachingBooks.
Win a free copy of Be a Maker! (Elementary)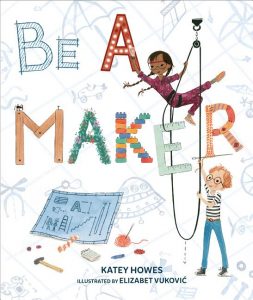 How many things can you make in a day? A tower, a friend, a change? Rhyme, repetition, and seemingly straightforward questions engage young readers, encouraging them to consider all the ways they can create.
Lerner Publishing Group is giving away five copies of Be a Maker. Click this link to enter for your chance to win.
Deadline: July 31, 2019 (Open to US addresses)
Explore more ways to have an impact and Be a Maker with this activity guide
Win a free copy of The Pride Wars Series! (Elementary)
Mystery, magic, and action-packed adventure converge in this high-stakes middle-grade fantasy series, perfect for Bravelands and Warriors fans.
Houghton Mifflin Harcourt is giving away five sets of The Pride Wars series (The Spinner Prince and The Four Guardians). To enter for your chance to win, click here.
Deadline: August 31, 2019 (Open to U.S. addresses)
Discover the deeper meaning behind The Pride Wars with this informative video clip