The TeachingBooks Implementation & Educational Support Team of Kym Davick, Deb Ford, and Mary Ellen Graf want to introduce you to our two new Implementation & Training Specialists!  Both Alyssa and Crystal bring a wealth of experience and knowledge to our team. We all look forward to working with you to support your literacy goals and bring books to life!
Alyssa Rei Yokota-Lewis
Alyssa here.  Very glad to be starting back at TeachingBooks.net after nearly a decade away. I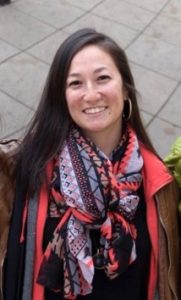 had the pleasure of working with the wonderful users of TeachingBooks as my first job out of college — building a foundational joy in collaborating with educators.
 I stepped away to grow my experience both with educators and young people. Following an M.Ed. in Youth Development, I worked at Young Chicago Authors where young people ages 12-25 develop creative expression through poetry, journalism, and rap.  Following that, I coordinated Peace Rooms in schools, grades 6-12, working with all stakeholders in the school environment to incorporate restorative justice into their policies and practices. I love supporting others and value equity for all as a foundation of individual growth.  
But what about books? Oh, I love books. I have never been without a book by my bed or in my bag when I leave the house.  To me, books open whole new worlds of possibility and are a cornerstone to building empathy, courage, self-identity, and more.  I know books don't hold the same sense of immediate magic for all readers, but I also know that we are all readers.  Some of us just may not have found the right access to that magic yet.  I am most excited to come back to TeachingBooks to continue to work with educators of all types in connecting others to the magic of reading.
Thanks for welcoming me back.  I hope to connect with you soon!
Alyssa
Crystal Ballard

Hello There!
I am so excited to be working with such a great team at TeachingBooks. Prior to getting hired here, I worked in education since I graduated from college at Utah State University.
I started work as an elementary teacher in 1st and 2nd grade and then went back to school to get my Master's degree in Library Science. Honestly, being a librarian was never on my radar until I began teaching and saw the impact that books can truly have on children, especially when they can connect to the book.
Ever since I graduated with my Library Science degree, I've worked in school libraries in many different states including Texas, Colorado, North Dakota, and now Wisconsin. I love reading (obviously) and am passionate about bringing books to life through puppetry and personal connections. In my position at TeachingBooks I hope to share the magic of books with you.
I look forward to this wonderful experience and working with you soon!
-Crystal
TeachingBooks provides a variety of training, implementation, and support options at no cost to you. Start exploring these opportunities which include online video demos, customized training sessions, monthly webinars, phone, and email support. Learn more about all of the TeachingBooks.net staff by visiting the Staff Directory. Remember, we are here to help. professionaldevelopment@TeachingBooks.net