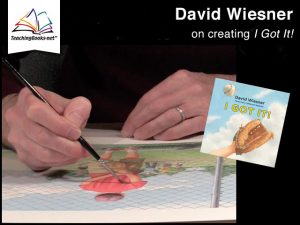 TeachingBooks visited David Wiesner in his Pennsylvania home / studio to gain insights into the creation of his newest book I Got It!  (Houghton Mifflin Harcourt, 2018)
After watching this 4-minute movie, we loved brainstorming the instructional potential of this creative book. Here are a few sparks to ignite lessons that we hope you enjoy.  
Story telling

– Share this wordless book with beginning readers, then ask them to retell and explain the story to build comprehension skills.

Story mapping

– Develop an understanding of story parts. Readers can map out the key elements of setting, characters, problem, and conclusion.

Plan a story/storyboarding

– Outline a plan for a story. The video shares information for emerging writers. Included is how to plan out a story through storyboarding and the importance of visual elements.

Emotional intelligence & self-awareness –

 Build emotional intelligence and self-awareness. The main character is dealing with his own fears and anxiety. This book opens discussion about conflict, self-awareness, and how to process feelings.

Art lesson medium & mood

–  Study artistic qualities–in the video Weisner explains his illustrations and how he uses models, different styles and mediums to show the difference between the real world and what is going on in the main character's mind.

Drama lesson

– Develop understanding of how a character's motivation can be propelled by internal monologue. This story provides an excellent opportunity to articulate the main character's thoughts when playing baseball.  

Athletic training

– Visualize–athletes learn that visualization is key in developing the mind to prepare for physical challenges.  This book opens discussions about this skill.
Inviting an author into your classroom or library opens readers' thinking about a story. It can jump-start teachers' and librarians' thinking about additional ways titles can be used as the basis for lessons.
TeachingBooks.net's resources allow authors to visit classroom and libraries virtually any time. Check out our collection of  original Meet-the-Author movies, filmed in the homes of some of the most prestigious, award-winning book creators.

Watch David Wiesner share thoughts and illustrations of his earlier wordless books, including The Three Pigs!
Listen to David Wiesner discuss his Caldecott Honor title, Mr. Wuffles!
Learn how to pronounce David Wiesner's name!
See all available resources about David Wiesner and his books.