Often the way to engage students is to empower them with opportunity and choice. TeachingBooks.net content supports giving readers voice.

1. Encourage students to make independent learning decisions.
Use
TeachingBooks.net to find titles or to support an assignment with a
video
designed especially for them.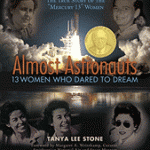 2. Bring student voice to the forefront.  
Use lesson plans, book guides, author interviews and author movies to springboard meaningful discussions like these from Tanya Lee Stone's
Almost Astronauts: 13 Women Who Dared to Dream
.

3. Activate your activists.  
Learn from authors who share what inspires, motivates, and impassions them.  For example, hear Phillip Hoose's
Meet-the-Author Book Reading
for
Claudette Colvin: Twice Toward Justice.

4. Embrace technology.  
Offer interviews in multiple formats to reach all reading levels and learning styles like these for
Yuyi Morales
. View our
Blended Learning
Support Page for even more ideas.

5. Learn with the students.  
Complete the Text Complexity rubric together in class.  In pairs have students prepare and cite evidence from the text to support their opinions.  Build community, hear all voices, and learn together.
We would love to hear how you use TeachingBooks.net to enhance your work and engage all learners.  Please share your ideas or contact us at
ProfessionalDevelopment@TeachingBooks.net
or 800-596-0710 if we can support you in your work.