Here are a few fun ways to use TeachingBooks.net this summer:
1. Lesson Planning:
Prepare for the books you'll be teaching in the fall by using the search box on the home page (or the Advanced Search) to instantly find quality lesson plans, author interviews, and other ready-to-use curricular materials.
2. Family Outreach:
Send students home with TeachingBooks.net bookmarks so that families can watch author/illustrator videos, listen to audio introductions to books, and use discussion guides to support informed conversations about the books they are reading this summer. For printable bookmarks, go to: http://TeachingBooks.net/Share
3. Explore New Instructional uses pages: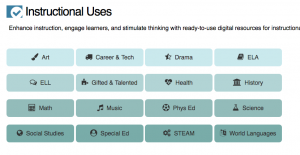 Explore new Instructional Usages pages that use standard based ideas from many different content areas to support literacy learning in all different curricular areas. Instructional Uses pages can be found under Help & Support or here. Here is a 30 second preview video.
4. Enjoyment:
Sit back and watch videos of favorite authors/illustrators in their studios or listen to authors introducing and reading a bit from their books when you visit this webpage that highlights TeachingBooks.net's original Meet-the-Author Movies: http://TeachingBooks.net/AuthorMovies
5. Professional Development:

Expand your knowledge of TeachingBooks tools by exploring our collections of training resources including short videos on specific features such as finding Text Complexity Data for titles, Creating lists and more.
Posted by Nick Glass, Founder & Executive Director of TeachingBooks.net