*Webinar Of The Month
*Usage Statistics
*Literacy Implementation Plan Module (update coming soon)
Do you need to submit student learning objectives for the 2015-16 school year?  Are your deadlines are fast approaching? TeachingBooks.net can help you design a plan for meeting your professional development needs and providing resources to use directly with student instruction. Document your PD with certificates of attendance, implementation plans and usage statistics, and you will have critical supports in place boost your students' achievement.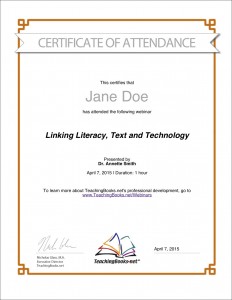 TeachingBooks' Webinar of the Month series allows you to gain indepth insight into the resources and tools available to strengthen your literacy instruction and enhance your students' reading experience.  View upcoming topics and register to attend these 30 minute training sessions and you will receive a Certificate of Attendance to assist you in documenting your learning.
Document Usage Statistics for your TeachingBooks.net license is a way that you can demonstrate engagement with resources and tools to support student learning.  Your license statistics may reflect a bump based on your use of resources in your classroom/library as well use by your students if that is a component of your instruction.
Contact accounts@teachingbooks.net to verify you are receiving statistics reports.
Analysis of the texts that are used in your classroom/library offer an additional SLO support.  Each Text Complexity Rubric that you complete is acknowledged with a Certificate of Completion.  This recognizes your thoughtful consideration of the texts that you are providing to your students as well as your contribution to a valuable professional resource benefiting educators and enabling their intentional use of specific texts.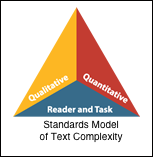 COMING SOON: Dig into your literacy instruction and enrich your lessons with our Literacy Implementation Plan Module.  This self-guided learning opportunity allows you to systematically work through the TeachingBooks.net website identifying resources, tools and strategies for your specific needs.  The module follows an inquiry method that leads you through phases of investigation, construction and expression to develop a plan that meets your unique classroom/library needs as well as receive a Certificate of Completion.
Writing, Designing, Implementing and Documenting a literacy SLO is challenging work.  At TeachingBooks.net, we strive to provide the resources and tools you need to be successful and reach targeted growth for your student literacy goals.
Please contact us at ProfessionalDevelopment@TeachingBooks.net or 800-596-0710 if we can support you in your work.
Posted by Val Edwards, MLS, Educational Outreach & Training Specialist