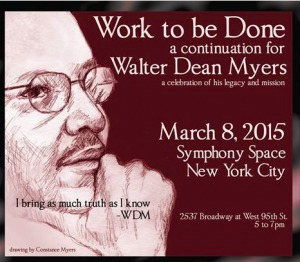 Last night's NYC celebration of the mission and work of Walter Dean Myers, hosted by his son Christopher Myers, was a tribute to creativity and following one's dreams. It was life abound.
Known children's book writers Avi, Jason Reynolds, Jacqueline Woodson, and Brian Selznick beautifully reflected on life. Wow! And readings, songs, and multifaceted performances by gifted stars took our collective breath away.
There are no known recordings of this celebration of the arts, but if you wish to see video of Walter, Avi, Sharon Creech, and Sarah Weeks perform each other's works, from the first Author Reader's Theater performance, here is the TeachingBooks.net movies of Harper Collins Readers Theater. And if you watch Love That Dog, you'll see Walter give that special smile that Avi mentioned in his remarks.